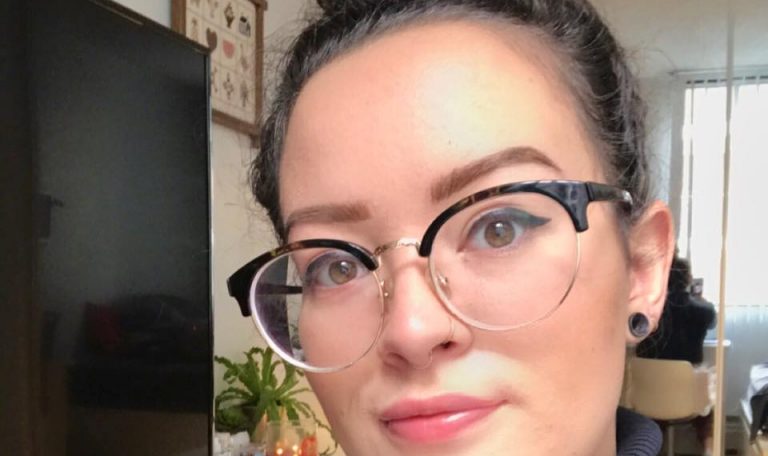 My name is Hanna Woodward, I am a team lead at BeTheChangeYYC. I am a registered social worker with a passion for working with marginalized populations. Before heading to Calgary when I was 19, I was born in Happy Valley Goose Bay, Newfoundland and Labrador and went on to move to Brooks, Alberta when I was 10. With the populations of these two small towns being around 8000 and 13 000, respectively, I was not aware of the significant homeless population in the city. Upon moving to Calgary, my eyes were opened, I saw many people sleeping outside in the cold, panhandling between vehicles on dangerous roads, and roaming the downtown streets with carts of their belongings. I needed to help these people. With this revelation, I decided that I wanted to become a social worker. I graduated with my Social Work Diploma in 2019, doing my last practicum in a permanent supportive housing building that houses people who experience chronic homelessness, along with mental health and addiction issues. I learned a tremendous amount while doing this practicum and later working in multiple PSH buildings but I knew I wanted to be outside in the streets directly assisting and connecting with those who were currently experiencing homelessness.
Homelessness is both heartbreaking and inspiring
Upon arriving back in Canada from taking time to travel and volunteer in Peru and Mexico, I decided to find a local volunteer opportunity. I did my research and found BeTheChangeYYC! Chaz, our president, CEO, and founder, kindly welcomed me to the team and I began attending outreach, I enjoyed it right off the bat! My favorite part of being an outreach worker is meeting all of the new people experiencing homelessness and hearing their stories. Many of the people that we help on the streets open up to us when we establish a trusting and caring relationship with them. Hearing people's experiences and what led them to homelessness is both heartbreaking and inspiring. Individuals experiencing homelessness have proven to be very resilient! It also makes you realize that we are all human and homelessness could happen to any of us. One outreach experience that will never leave my mind is walking through Olympic Plaza and seeing a huge group of clients that I had seen multiple times before sitting around and singing and playing their Indigenous drum. This was amazing to me because coming from an Indigenous background but not knowing much about my culture, encountering these experiences sparks an affection and appreciation for the strength of Indigenous culture.
Important we understand all the factors
I am an advocate for harm reduction because I believe in the inherent worth of every human and I believe that we should be treated fairly and well despite our situations or our downfalls. I recognize the trauma and the marginalization that people face which leads them into addiction. Before assuming that an addict "made a choice to do drugs" or "is a bad person" it's important to understand all of the factors that got them to where they are.
My dream is to travel the World
I have big plans for the future! I will keep working with vulnerable populations, in Canada and hopefully even around the world. My dream is to travel the world and to use my skills and competency to help people, even if my impact is small. At some point I would love to work as a social worker in my home province of Labrador in an isolated coastal community. I wish to learn more about my NunatuKavut Inuit-Metis background and start to practice the various traditions and languages. I dream that eventually I will be involved in Indigenous policy and strengthening these communities. I know that with my level of passion and devotion I will eventually meet these goals.